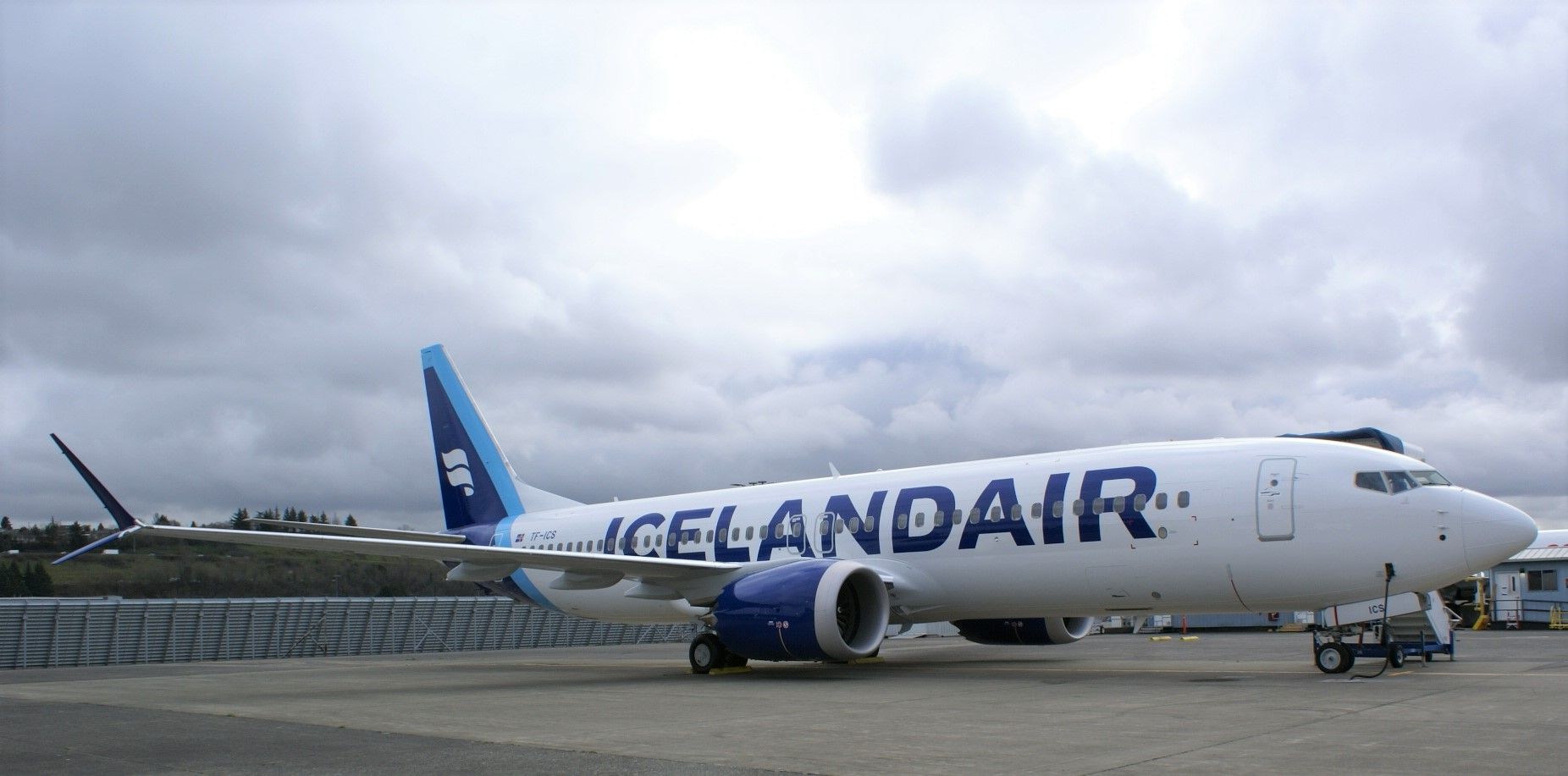 A preview of Icelandair's new Boeing 737 MAX
Icelandair has taken delivery of another Boeing 737-8 MAX. The new arrival is part of a multi-aircraft deal announced in October 2021 with Aviation Capital Group (ACG).
The sale-leaseback agreement for two Boeing 737-8 MAX and one Boeing 737-9 MAX allows the airline to free up capital by selling the aircraft to ACG and then leasing it.
The Boeing 737 MAX plays a key role in the future of Icelandair's fleet, as highlighted by the airline's CEO, Bogi Nils Bogason,
"Renewing our fleet with new eco-efficient aircraft like the Boeing 737 MAX is an important step towards achieving our ambitious goals of reducing the company's carbon emissions by 50% by 2030."
The Boeing 737 MAX plays a key role in Icelandair's fleet renewal. Photo: Icelandair
Icelandair and the Boeing 737 MAX
Icelandair restarted operations of the Boeing 737 MAX in March 2021 and earlier this year used the type to reveal its new livery – the first refresh since 2006.
Planes are expected to fly from Keflavík International Airport to a range of destinations across Europe and North America, making the most of the airport's unique position as a hub between the two continents. Routes operated by the Boeing 737 MAX include Chicago, Newark and even as far away as Portland.
When all outstanding orders have been received, Icelandair will have a total of 16 Boeing 737 MAXs in its fleet – nine Boeing 737-8 MAXs and seven of the larger Boeing 737-9 MAXs.
The type still outnumbers Boeing 757-200s, of which Icelandair has 15 in its fleet. But that won't be the case for long – with an average age of over 24, the airline plans to retire these planes by 2026.
Focus on Icelandair's Boeing 737 MAX
Icelandair's Boeing 737-8 MAX aircraft seats 160 passengers – 16 in business class (Saga class) and 144 in economy class, while the larger -9 variant can accommodate 178 passengers.
With a top speed of 521 mph (839 km/h) and a range of up to 4,045 miles (6,510 km), these modern aircraft also use 37% less fuel per trip than the Boeing 757-200, enabling Icelandair to better compete with low-cost carriers. PLAYER.
Icelandair will operate a total of 14 Boeing 737 MAX aircraft once all deliveries are complete. Photo: Icelandair
In addition to renewing its passenger fleet, Icelandair is also increasing its cargo fleet. The airline's two current freighter Boeing 757-200PFs will be joined by two converted passenger Boeing 767-300BCFs later this year.
Have you flown on Icelandair's Boeing 737 MAX aircraft? Let us know your thoughts by commenting below.
Russian flag carrier: the current state of Aeroflot's fleet
Read more
About the Author