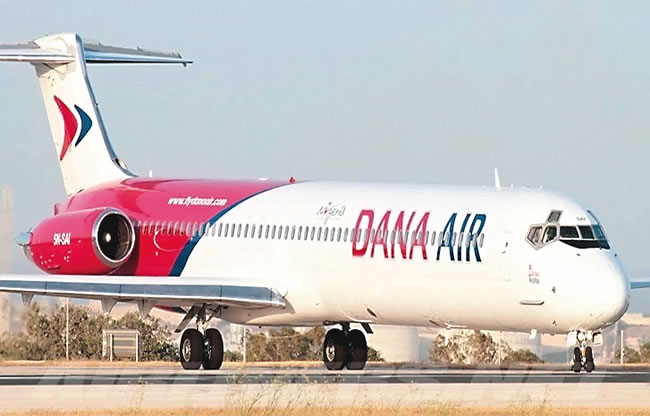 As Forex Goes Untouched, Nigeria's Domestic Airline Business Is In Limbo
There is an air of foreboding in the country's aviation sector as two major national airlines have directly or indirectly pulled out in the wake of the crisis raging in the airline sector.
Previously, airlines under their umbrella, Airline Operators of Nigeria (AON), had consistently denounced the poor business environment that plagued their operations, with particular mention of the exorbitant price of aviation fuel, unavailability of foreign exchange , the recent closure of runway 18Left and many other reasons.
According to the airlines, in February this year, a liter of aviation fuel was sold for 200 Naira, which doubled last week to between 780 Naira and 830 Naira. As the price of the commodity continues to rise daily, the airlines' inability to access the foreign exchange market has further complicated matters for them since most of their transactions are conducted in foreign currencies.
The climax of the difficulties came to a head earlier this week with the announcement by the oldest of the national airlines, Aero Contractors, that it was temporarily closing its regular operations, which means that until God know, it will not be involved in the provision of services. to the traveling public.
Aero management had attributed its decision to what it described as a difficult operating environment.
"The last few months have been very difficult for the aviation industry and airline operators in particular due to the high cost of maintenance, soaring fuel prices, inflation and the scarcity of foreign currencies leading to high rates of high exchange rates which are among the major components of flight operations," the airline said.
While many key players have described Aero's suspension of scheduled air operations as dangerous for a sector that has yet to meet the travel demands of Nigerians who have now embraced air travel as an option for other modes. transport like road and rail due to insecurity challenges, they have sounded the alarm over the negative impact the situation will have on the sector.
While the dust had not yet settled, there was yet another shock in the same week regarding the indefinite suspension of another powerful carrier, Dana Air, by the Nigerian Civil Aviation Authority (NCAA). for reasons ranging from unhealthy financial books uncovered during an audit conducted on the airline to the findings of an investigation conducted into the airline's flight operations which revealed that "Dana Airlines was no longer able to cope meet its financial obligations and to conduct flight operations safely".
In addition, the airline, before its permanent suspension, had lost some of its employees, including its former deputy general manager, Mr. Sukhjinder Paul Mann and some pilots who resigned due to the airline's inability to pay their wages.
The two airlines that are already down have attributed their woes to similar reasons that other airlines have shouted and urged the federal government to address urgently.
Just like Aero, while Dana Air has pledged to undergo the NCAA economic audit, the airline's management has listed the recent skyrocketing cost of the Jet A1 to N830 per litre, the unavailability of forex and inflation as contributing factors to its difficult difficulties in seeking understanding. and the patience of customers, travel and business partners.
Many key players described the situation as a bad omen and a sign of worse things to come for the traveling public. They blamed the government for not acting quickly to intervene in the plight of the operators.
In his reactions, an aviation safety expert and former commander of Murtala Muhammed Airport, retired Group Captain John Ojikutu, said: "Aero Contractors is out of commercial flight operations, as is Dana Air and I know for sure that Arik is choking; these are among the great; What do you think happens to the lesser, especially the newcomers? I saw this happen in 2020 when COVID-19 entered flight operations; going to cargo operations was what I advised our domestic airlines, but it fell on deaf ears. but we are here today.
Speaking on the reason given by the NCAA for the grounding of Dana Air, Ojikutu, while praising the development, added, "This is the first time I have heard the report of an economic audit of a Nigerian national airline. We need more of this on all operators not just airlines to effectively comply with Nigeria Civil Aviation Regulations (CARs) Part 18.17.1.1 on Operations. I hope these audits will be extended to other operators, especially service providers like FAAN, NAMA and Met. This is what the Nig CARs demand from the NCAA every year and not some instinctive operation.
According to a former airline boss who does not want to be quoted, the airline crisis should be blamed on the government's failure to recognize the national services that operators provide on behalf of the government.
"This is a government that for seven years has failed to deliver on its promise to launch a national carrier for its citizens and yet cannot make the environment conducive to private investors who, out of patriotism, still choose to invest their resources in air transport despite the hostile environment," he said.
The airline chief, who could not hide his anger at what he called the government's failure to address the continued unavailability of foreign currency and the daily increase in aviation fuel, said Nigerians should hold the government accountable for any mishaps that may arise from any compromises by struggling airlines who may want to stay in business at all costs.
Another airline chief, while commenting on the precarious situation faced by local airlines, had predicted that more airlines may also suspend operations due to the closure of the Lagos Domestic Airport runway for maintenance, as he said most airlines could not afford the daily waste of taxation. and held for three months.
His words: "In three months, some airlines may come to a standstill because Lagos is the hub of operations in Nigeria."
Speaking to Saturday Tribune, a regular traveler on the Lagos/Abuja route, Mr. Yemi Martins, expressed concern over what he called the difficult economic environment which he said could bring Nigeria back to the top. era when some airlines were cutting corners leading to a series of crashes. .
He described the government's lack of interest in addressing the challenges of unavailable forex that will allow airlines to service their planes and tackle other issues as an invitation to disaster.
For many in the industry, it is impossible for airlines to survive for long in the face of the constantly rising price of the Jet A1, the currency challenge and the other crises facing national airlines.
losers
According to key players, amid the crisis, the big losers are passengers who may be forced to pay more on domestic routes as the few remaining airlines, out of a zeal to survive and lessen the effects of the listed challenges on their operations, will certainly increase the rates just like their foreign counterparts.
The airlines had unanimously raised fares not too long ago with a one hour flight selling for between N20,000 and N25,000, depending on the booking system and aircraft type, between N50,000 and N100,000 and more.
Encouraging airlines to adjust fares to stay in business, an aviation expert who spoke at a recent forum said, "Sell what you buy. This is my sincere opinion to the airlines, given these uncontrollable factors of production in the airline industry. Demand will certainly drop, but much better than cutting corners. If a trip fuel is 4,000 liters for one hour in jet (LOS ABV), for example at N800 per litre, which gives N3,200,000 and a load factor of 100 passengers, this means that the cost of the fuel per passenger is N32,000 and that is about 30% of the total cost. This will result in a fare of N107,000 for a one-way travel period.
Still justifying why airlines should adjust tariffs, the key player cited how PHCN introduced the "premium tariff" on electricity and those who can afford it are content with it.
"Now is not the time for frivolous, reckless competition or uneconomic patriotism. Operators must intensify cooperation, collaboration, consolidation, pruning schedules to minimize perishable seats and maximize load factor. L "Spring Alliance spirit must be strengthened. Industry must not negotiate an accident. NCAA encouraged to be more vigilant to look for shortcuts."
Speaking to Saturday Tribune, the NCAA spokesperson said there was no cause for alarm, stating that the NCAA was basically created to handle this type of situation.
He said: "We exist to make sure everyone does what needs to be done. We are monitoring more than ever to avoid any security compromises. Air travel involves lives and there is no parking space in the air. This is what the NCAA was created for.