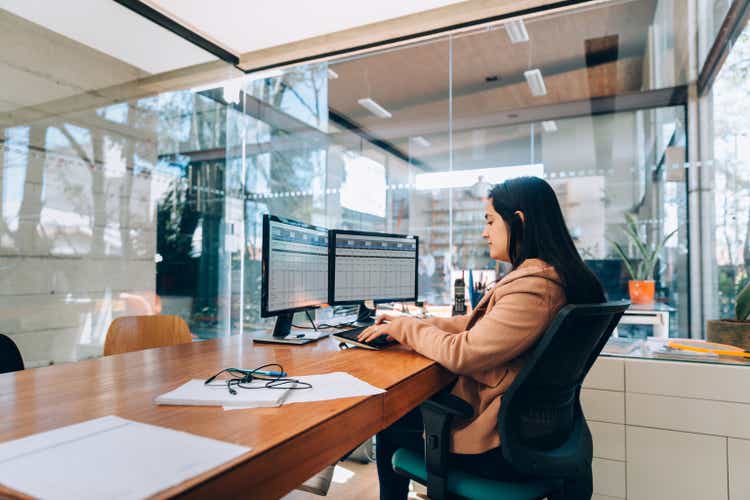 iShares MSCI Europe Financials Sector ETF: Key Talking Points (NASDAQ: EUFN)
The bank is a pretty good deal if you don't do anything stupid. -Warren Buffett
The iShares MSCI Europe Financials Sector Index ETF (NASDAQ:EUFN) is an ETF worth around $700 million, providing coverage for more than 75 European-based financial stocks. Banks represent the largest part of this ETF with a weight of 46%; the rest of the ETF is exposed to insurance companies and diversified financial companies.
Subscribers to The Lead-Lag Report will notice that each week I share a chart highlighting the relative strength of European and US financials; you would be interested to know that this ratio is at rather low levels, implying that European financials seem to offer good value. Should you then consider this cohort? Well, there are both good and bad sides to pursuing EUFN at this point, and in this article, I'd like to touch on some of the key stories that could impact this ETF.
Main talking points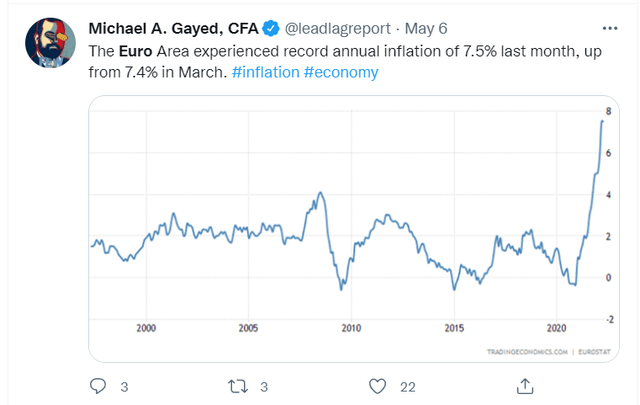 Last month, I posted a tweet on the Lead-Lag report timeline highlighting how inflation in the euro regions was at record highs of 7.5%; if you thought that number was bad enough, then the May reading that came out yesterday was even worse at 8.1%, and also above market expectations of 7.8%! In fact, in parts of Europe, inflation is currently hovering around the 9% threshold.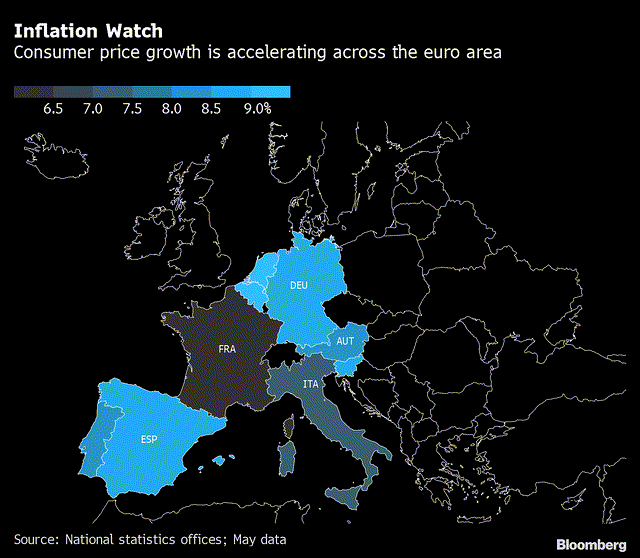 As noted in The Lead-Lag Report, even before this report was published, some European bankers were complaining that the ECB was not being aggressive enough with its rate hike plans. There has been talk in some corners that rates could be raised by 25 basis points on July 21st ECB meeting, but now I wonder if this will be even more marked by a potential 50 basis point hike?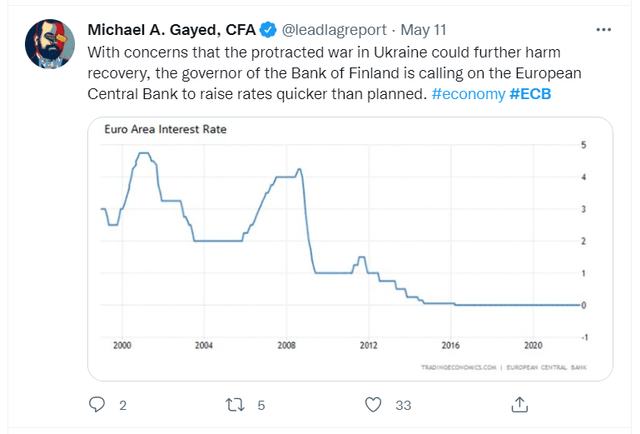 On the face of it, a more aggressive rate pivot across Europe should provide a welcome boost to European banks' net interest margins, but as noted in the Lead-Lag report, things aren't quite as clear-cut. given the underlying economic conditions there.
First, consider that the problem with Eurozone inflation is that it is not particularly a demand-side problem, and much of it is due to supply-side dynamics. . In fact, one could argue that the dynamics on the demand side are so precarious that the ECB risks shooting itself in the foot if it tightens too quickly. Look at something like consumer confidence; this one has been in negative territory for so many months now, but over the past three months the pressure has been particularly pronounced.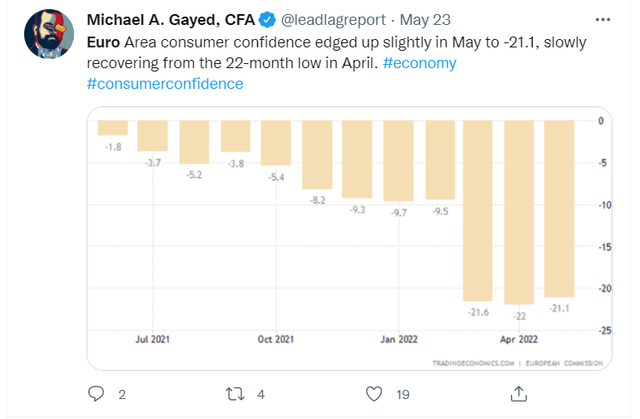 Then you look at the growth dynamics within Europe; it is a region that has only recently registered a tiny growth of 0.3%; now, even if banks were able to extract more interest per loan granted (assuming a pivot to higher rates), can we expect to see a significant expansion in loan growth when your consumers are very low on confidence and your economy is shrinking to less than 0.5% Growth rates?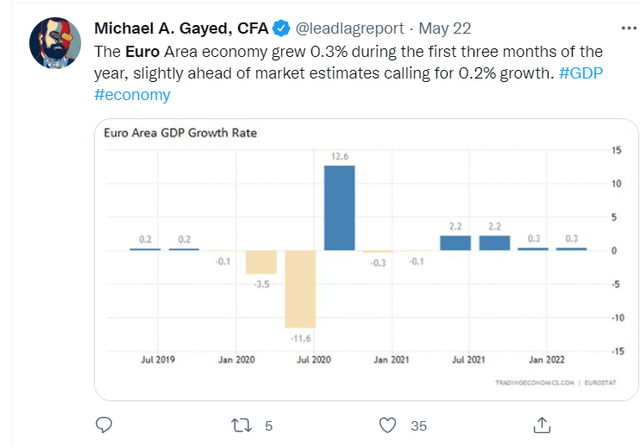 Then there is also the Russia-Ukraine narrative to consider as it has both positive and negative connotations. As you can imagine, many of these Europe-based lenders have high exposure to these regions and now face increased credit provisions to mitigate risk there. As you can see in the image below, aggregate credit provisions for 14 European banks are currently at their highest level in 5 quarters. Higher credit provisions also mean banks could potentially have less leeway to indulge in higher capital distributions or redemptions. In fact, EUFN's main holding company, HSBC (which has an 8% weighting), recently mentioned that it was unlikely to engage in any further buybacks in 2022.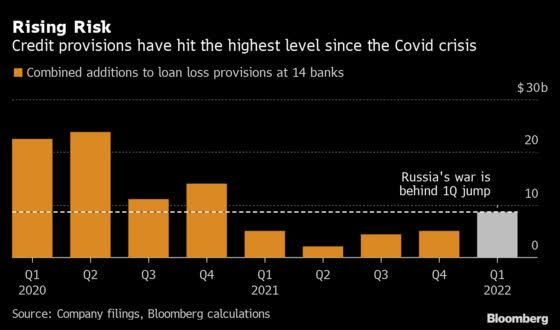 While distribution risk has increased, this crisis has also resulted in a spike in volatility; and when you see a spike in volatility, there is almost always an increase in trading activity. Note that these European banks have been the main beneficiaries of the recent trade boom, with euro-based trade revenues growing at a much faster rate than what has been seen in the United States. As there does not seem to be an end in sight with the Russian-Ukrainian war, and as there are also other global headwinds, I expect volatility to remain elevated and thus contribute to this trade boom.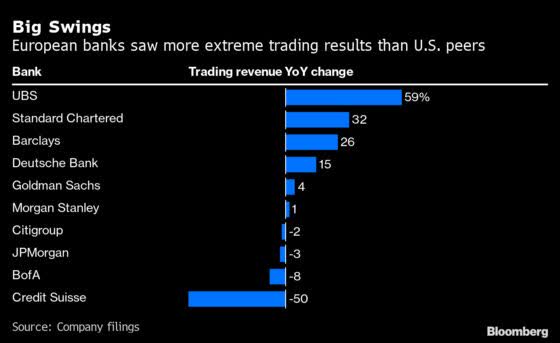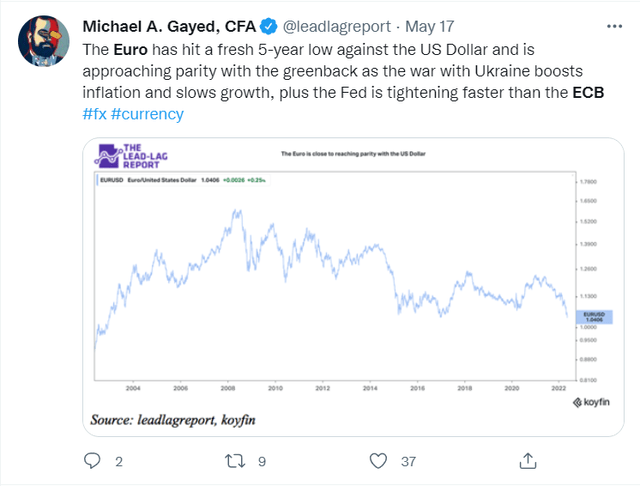 EUFN holders will also be encouraged to note the improved euro conditions; I mentioned recently in The Lead-Lag Report that the euro was approaching parity and I believe it is now due for a catch-up, especially as the ECB looks set to embark on an aggressive path of rate hikes.
Conclusion
While the fundamental backdrop for European financials looks rather mixed with a negative bias, the same cannot be said for the valuation and income outlook, as it looks much more attractive than its peers in the US. First, consider the over 200 basis point higher yield differential between EUFN and the SPDR S&P Bank ETF (KBE). Incidentally, the EUFN's current yield of over 4.5% is at its highest level in almost two years and could serve as a very useful parachute if things go wrong here.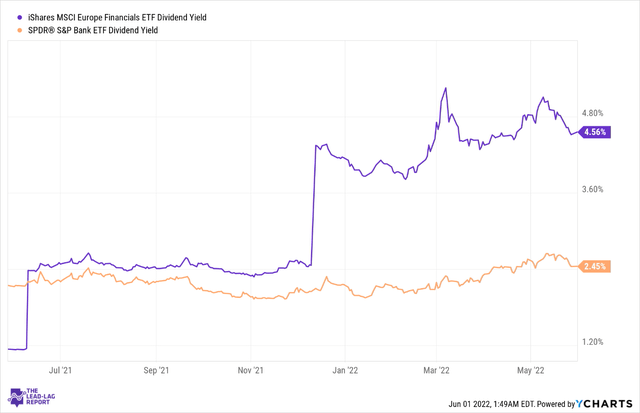 EUFN also has a much more attractive valuation, with its constituents trading at a futures price to book value of just 0.72x, a whopping 69% discount to KBE's corresponding multiple.

Anticipate crashes, corrections and bear markets
Sometimes you may not realize the biggest risks in your portfolio until it's too late.
This is why it is important to pay attention to the right data, analysis and market information on a daily basis. Being a passive investor exposes you to unnecessary risk. By staying informed of key signals and indicators, you will take control of your financial future.
My award-winning market research gives you everything you need to know every day, so you can be ready to act when it matters most.
Click here to access and try the Lead-Lag report FREE for 14 days.