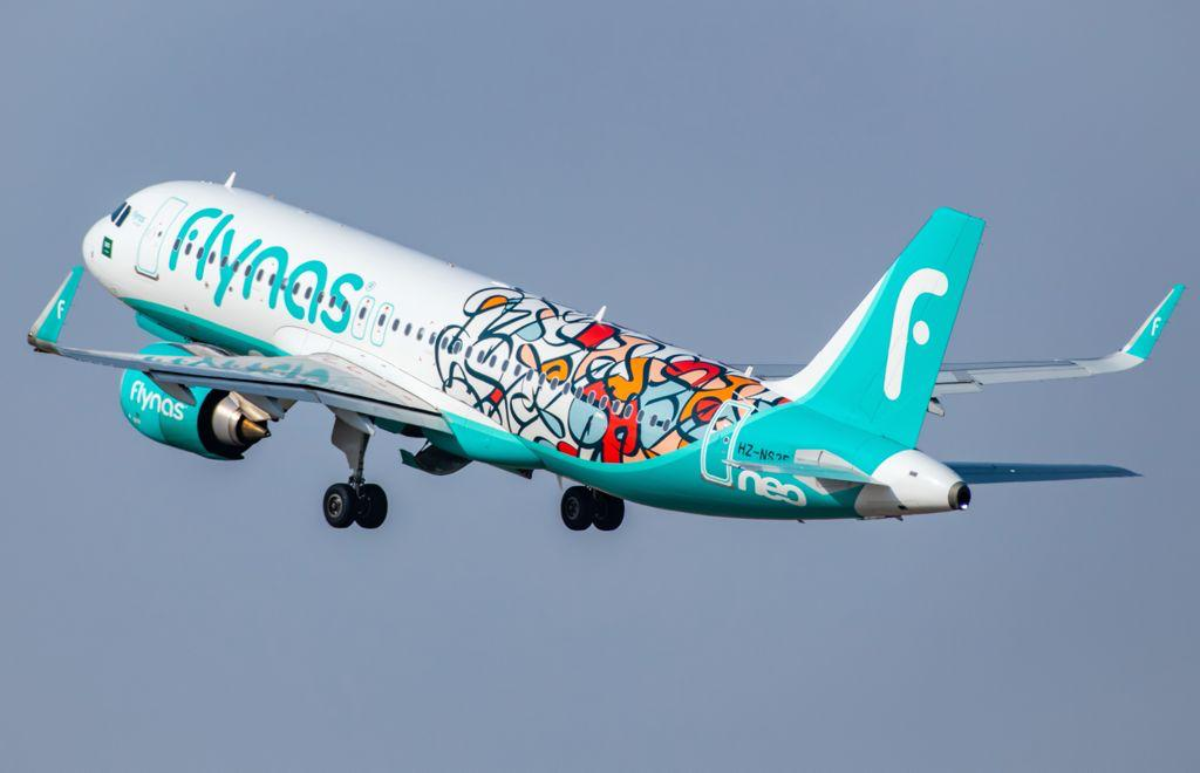 Sale-leaseback agreement to pay for 14 flynas A320neo
Riyadh-based Flynas is to finance the purchase of 14 Airbus A320neo jets through sale-leaseback agreements with three aircraft lessors. The low-cost airline announced the deal this week in Riyadh at the Future of Aviation Forum. The 14 narrow-body planes, with a list price of $1.4 billion, are part of a much larger order from Airbus.
Big growth plans for Saudi Arabia's flynas
As of March 31, flynas had a relatively small fleet of 39 narrow-body Airbuses serving 55 international destinations and 35 domestic destinations. But flynas has never shied away from his growth aspirations. It has ordered another 89 planes from Toulouse and said in March it wanted to order another 250 planes to become the Middle East's largest low-cost airline.
"From our position as a Saudi air carrier, we see great opportunities for expansion supported by the Kingdom's strategic location and the prospects opened up by Saudi Vision 2030 for the air transport sector", said flynas CEO and MD Bander Almohanna at the time. "This is reinforced by the launch of the Civil Aviation Strategy, which aims to increase annual passenger traffic to 330 million and connect the Kingdom of Saudi Arabia to more than 250 destinations worldwide by 2030." .
CEO of Flynas and MD Bander Almohanna. Photo: flynas
Sale-leaseback agreement frees up capital to fund future growth
Six weeks later, the airline has yet to activate the discussion with a firm order. In the meantime, flynas needs to finance its existing order. This week's deal locks in payment for 14 of the A320neos due from Toulouse. The 14 aircraft are expected to arrive in Riyadh by the end of 2023. The three lessors who accepted the sale-leaseback agreement were CBD Aviation, CMB Financial Leasing and Avolon Holdings.
A sale-leaseback agreement is relatively simple. The airline, in this case flynas, sells an aircraft to a lessor and leases it immediately. The lessor effectively acts as a de facto financier or bank. An Airbus A320neo has a list price of US$110 million (although you can safely assume flynas didn't pay that much). But regardless of how much flynas has to pay on the delivery date, it's still a big blow to the airline's bottom line. In a sale-leaseback arrangement, the airline avoids large capital expenditures in favor of a smaller stream of monthly lease payments.
All of this freed-up capital will help fund the airline's growth plans. Announcing the deal this week, Bander Almohanna said the agreements "support flynas' strategy of local and international expansion" with the aim of achieving those 2030 goals.
flynas plans to build its fleet up to 250 aircraft by 2030. Photo: flynas
Busy week for flynas CEO
It's been a busy week for Bander Almohanna. He also confirmed that flynas had secured a $225 million Murabaha corporate finance facility (Murabaha is an Islamic finance structure) to help this growth trajectory.
"The funding program will support flynas' ambitious future growth plans to become the largest and most important independent low-cost airline in the Middle East and North Africa region," he said to a presser. Credit Suisse has spearheaded a syndicate of several Saudi banks ready to release the money.
"The agreement will also improve the efficiency of the air transport sector in the Kingdom of Saudi Arabia and further confirm flynas' ability to play an instrumental role in realizing this strategy," he added. added the CEO of flynas.
Source: Bloomberg
Mexico City Airspace Drama Continues After Volaris Incident
Read more
About the Author