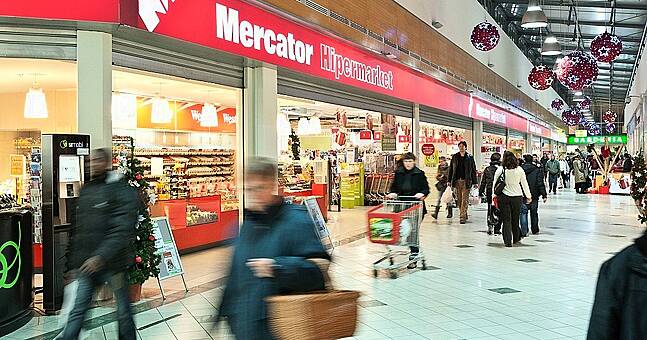 The Mercator group announces a profit of 3.1 M € in the first quarter of 2021
Slovenian retailer Mercator Group reported a profit of 3.1 million euros, up 183.9% year-on-year, in the first quarter of its fiscal year.
The group recorded a 7.4% growth in its normalized EBITDA during the quarter, which amounted to 47.3 million euros over this period.
Retail sales, the core business of the Mercator Group, increased by 8.9% in the first quarter compared to the same period in 2019.
'Business strategy'
Tomislav Čizmić, Chairman of the Board of Mercator, said: "The positive business trends are the result of the successful implementation of the business strategy and all initiatives aimed at achieving business goals.
"In recent years, we have succeeded in renovating nearly 60% of the sales network. We invest a lot in the service, the prices and the personalized offer.
The Mercator group generated € 507.8 million in sales and rental income in the first quarter, down 4.3% year-on-year.
Income growth has been extremely high over the same period last year due to the first wave of the COVID-19 outbreak.
The drop in income is partly attributed to measures taken by governments in various regions to contain the epidemic.
These included the shutdown of its consumer electronics chain M Tehnika, as well as schools, restaurants and accommodation facilities, which affected the company's wholesale revenue.
Debt reduction
izmić added: "The Mercator Group has further reduced its debt, with net financial debt down 5.5% compared to last year.
"In the first quarter, we continued the planned investments, which will continue to ensure the success of the Group's development. "
At the end of March, Sberbank transferred 1,123,803 shares or 18.53% of the shares of Mercator to the Fortenova group.
Other highlights
In the first quarter, the company successfully adapted to all COVID-19 measures implemented by individual governments in the markets where the group operates.
He focused on the safety of employees, customers and suppliers and acted responsibly for job security, not only in the company itself, but also in the supply chain.
The company continued the activities planned for the construction of a new logistics and distribution center in Ljubljana and the expansion of its commercial network and the monetization of real estate.
The Supervisory Board approved the essential conditions of the sale and leaseback of the constructed businesses of five Mercator buildings and 22 existing businesses.
It has approved the construction of new retail facilities, which will have a positive impact on leverage and increase its share of retail space in Slovenia, the company said.
© 2021 European supermarket magazine. Article by Dayeeta Das. For more information on retail, click here. Click on subscribe register for ESM: European magazine for supermarkets.